Portable Toilets and Portable Ensuite Bathrooms for Hire
Ensuites to Suit in Adelaide, Brisbane, Gold Coast and Sunshine Coast for
Portable Toilet hire | Mobile Bathrooms | Portable Showers | Luxury Portable Bathrooms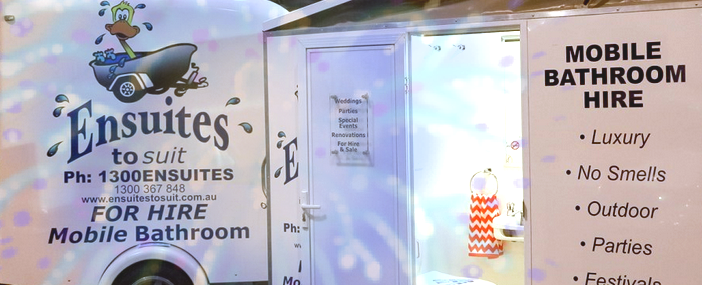 Portable Ensuite Bathrooms
Our luxury portable bathrooms are ideal while your home bathroom undergoes renovation, while you have house guests or even when you need a temporary toilet or temporary bathroom for your home. Great for events and special functions.
Portable Toilets – Clean and Green
Simple to install, fully flushable toilets, no smell and luxury fittings.
Best in Class Prices
Great prices for your ensuite bathroom hire or portable toilets too. The luxury mobile bathrooms are available promptly in the
Gold Coast,
Sunshine Coast (Queensland) and
Adelaide (SA).
Call: 1300 ENSUITES (1300 367 848) or Call: 0404 049 852
Luxury Ensuite Bathrooms
Experience the convenience of a portable ensuite – you'll feel like you are in your own bathroom. See our luxury mobile bathroom page and our exclusive Presto Bathrooms (complete with pop-up roofs for easy access). For events we offer twin bathroom configurations.
Portable Showers
We also supply portable showers (shower cabins). These mobile showers are quick to set up and will provide heaps of hot water using either Gas or Electric power supply. Suitable for special events, a shower while your bathroom is undergoing renovation or for your celebration, reception or party. See our mobile shower page.
Portable Toilet Hire
For events of any size, from your house party to your Wedding Reception to Commercial Events and Corporate Events toilet hire anywhere in Adelaide, all along the Gold Coast in Queensland and the Sunshine Coast and in Brisbane is a snap. We have a full range of portable toilets for hire. Delivered and setup by us, the flushable toilets are sterilised and clean, set up ready for you to enjoy.
Call: 1300 ENSUITES (1300 367 848) or Call: 0404 049 852
1300 Ensuites Mobile Toilets and Mobile Bathrooms Questions and Corporate Membership
Ask Ensuites to Suit any question you have about our Hire, Supply Only and Supply and Installation options available.
Call: 1300 ENSUITES (1300 367 848) or Call: 0404 049 852
Being a member of 1300 Ensuites allows us to offer all our corporate customers Australia wide support and service, right from your very first phone call. Your temporary bathroom is only a phone call away. Drop us a line.

Mobile Bathroom Hire
Brisbane Adelaide Gold Coast Sunshine Coast luxury mobile bathroom hire
Brisbane Adelaide Gold Coast Sunshine Coast luxury mobile bathrooms with pop up roofs for tight access
Brisbane Adelaide Gold Coast Sunshine Coast mobile bathroom hire
Brisbane Adelaide Gold Coast Sunshine Coast mobile toilet hire
Brisbane Adelaide Gold Coast Sunshine Coast mobile stand alone shower hire
Phone 1300 ENSUITES – Free call